List of Wedding Themes
List of Wedding Themes

Your sweetie has asked you to marry him and now you are planning your wedding. A question pops into your mind – should I have a themed affair and if so, what theme should I follow?


Well that all depends. What do you and your fiancée like, where do you live, what is the mindset of your guests, what is practical and how much of your budget do you want to spend on your celebration.
Some of these questions have obvious answers and others require a little thought, and ingenuity.  Let's take it one step at a time and begin here.


A List of Wedding Themes for Your Interests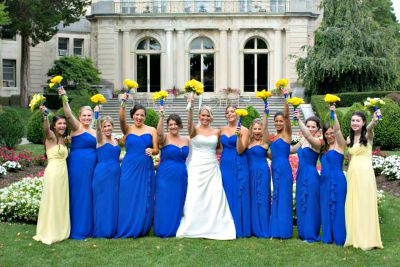 If you and your honey enjoy going to sporting events consider basing your theme on a particular sport, such as, baseball.  You could have your table number tags in the shape of a baseball or bat.
Your reception room could be decorated in baseball banners, and your centerpieces could resemble a baseball diamond with players on the bases and mound.
For fun your D.J. could play, "Take Me Out to the Ball Game" and of course the topper of your cake could be a bride ready to hit a home run with her hubby as the pitcher.

Purchase popcorn bags and fill them with buttered popcorn and leave them on the table for your guests to take home.
Some couples enjoy reading about the medieval times and going to renaissance festivals.  Medieval Themes have the excitement of being at a costume ball.
How about hiring a trumpeter to play as you and your husband walk into your reception hall.
Imagine yourself getting married in a castle or old mansion decorated with heraldic banners hung from wooden dowels. For centerpieces, use large wrought iron candelabras with tall tapered candles.   Your  dress could have a laced up back and a tight waistline.  A fabulous idea for a favor would be to have someone sew velvet pouches and fill them with chocolate foil gold coins.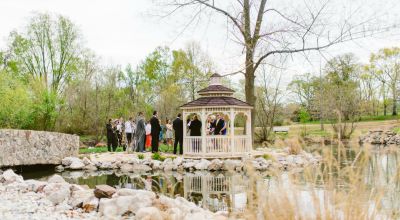 Seasonal List of Wedding Themes

Seasonal themes are always fun to plan and will save you some money if you take advantage of what's in season.   The décor should reflect the time of  year that you are being married in.
Create a winter wonderland by decorating with snowflakes, and ice cycles.
Spring has a wide assortment of flowers to choose from and of course, the pastel color pallet is your friend.
Summer weddings can take place at the beach and your favors and cake can have a beach theme.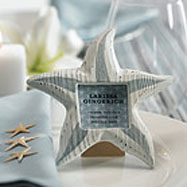 How about this cute starfish picture frame?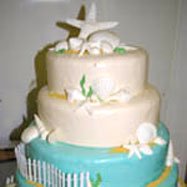 And how about this beach themed cake?

Fall wedding themes can be created by using a fall color pallet of harvest gold, burnt orange, rich browns and deep maroons.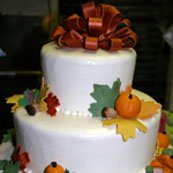 Your cake is a focal point of your reception. To enhance your fall wedding theme ask your baker to create a cake with autumn colors.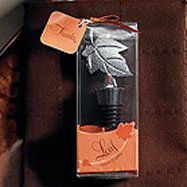 What about using a leaf wine stopper for your favors?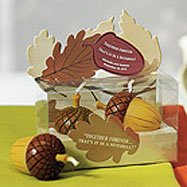 Or acorn candles for your favors?

Color Themes

Any color theme can be created using your chosen color for your flowers, decorations, bridesmaids dresses, table linens, favors, centerpieces, save the date cards and invitations.
The centerpiece below makes a great table arrangement for a Fall Wedding Theme.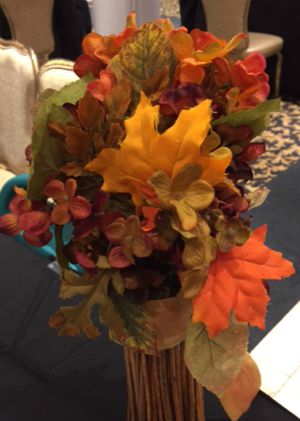 Popular List of Wedding Themes


The above are just a few ideas to choose from but the list of wedding themes is endless. Click on any of my links below for more theme ideas.

Jump to our Welcome page and gain some great knowledge and bridal tips.

Wedding Theme Ideas

Country Ideas

Spring Themes

Wedding Colors Theme



Pictures are copyrighted and cannot be used without written permission © 2008 - 2015 unique-reception-theme-wedding-ideas.com ® All Rights Reserved
Click Here to read our disclosure regarding affiliate and advertising sponsors.