Halter Wedding Dresses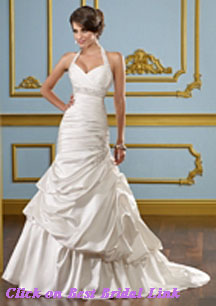 Sexy Halter Wedding Dresses
You've been to quite a few weddings lately and most of the brides wore a strapless gown. Now it's your turn to choose a bridal dress and you prefer something different than what all your friends are wearing. You love the halter "look" and you are considering wearing a halter bridal gown.
What body types look best with a halter neckline?
Halter necklines are flattering for large busted women. If they are concerned about looking too busty, they can have a "modesty piece" sewn into the v neck part of the dress.
Halter style dresses tend to make the small busted woman look a bit fuller. If a bride feels she would like a little cleavage to show, she can have cups sewn into the dress or wear a strapless padded bra.
Which body types should be concerned about wearing a halter gown?
Brides that have very square shoulders or droopy shoulders may want to choose a different style, as halter straps tend to accentuate the shoulder area.
If you are self conscious about your arms, you may want to choose a dress style with a cap or long sleeve dress that won't draw attention to your arms.
If you have a pear shape, you may not find the halter style flattering, as the angle of the halter straps tends to make the upper part of the body seem smaller than the lower half.

If you've been looking for halter bridal dresses and can't seem to find exactly what you are looking for, ask the sales person if halter straps can be sewn into a strapless dress that you like. If not, bring a seamstress with you to take a look at a dress that you've chosen and determine if the tailor can alter the dress to your specifications.
A few years ago finding halter style dresses was quite a chore, however several designers such as, Maggie Sottero, Mori Lee, Davinci and Alfred Angelo have come up with quite a few knock-out halter gowns.
Some ideas for halter wedding dresses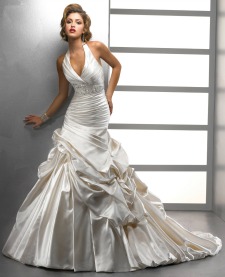 The above halter wedding dress is for a modern or traditional bride. It has a pleated halter neckline making a striking statement in this soft shimmery satin pick up gown. The body of the dress has an elongated waist and features a Swarovski crystal inset just below the bust line. The back is finished with a corset closure. It comes in white, diamond white and alabaster.

More Ideas for Halter Style Dresses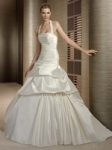 The above halter style Sofia Chiffon gown has a tight fitted top and flares out just below the hip line. This gown is very delicate and wispy.

Halter Wedding Dresses that Accentuate Curves.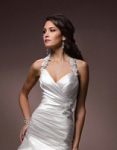 This sophisticated chiffon Davinci Wedding Dress is made from a luxurious satin fabric and has a dropped pleated bodice. This gown features a sweetheart neckline with floral halter straps. The waist is the anchor of the bustling that spreads throughout the skirt and has a stylish lace up back.

More Fabulous Halter Wedding Dresses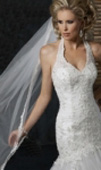 This dress  is a mermaid style and has lace appliques embellishing the gown. The bottom of the dress features tulle over satin giving this dress a romantic silhouette.
If you don't see what you like on this page please click on the "Best Bridal Prices" box above and you will find more Halter wedding dresses.

Like what you see, come visit us at our Welcome page.
Unique Wedding Dresses

Tips for Shopping Online

Sexy Wedding Attire
Pictures are copyrighted and cannot be used without written permission © 2008 - 2015 unique-reception-theme-wedding-ideas.com ® All Rights Reserved
Click Here to read our disclosure regarding affiliate and advertising sponsors.