Halloween Wedding Theme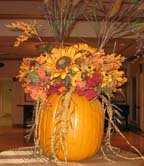 Halloween Wedding Theme

Wedding themes are becoming increasingly more popular and Halloween Wedding Themes are no exception. 
The spring and summer months are still the most popular among brides, however, the fall season is becoming increasingly more desirable.


If you and your future hubby are into ghouls, goblins and ghosts, you can center your bridal theme around Halloween whose roots are found in the ancient Celtic festival of Samhain.
The Celts celebrated their new year on November 1st marking the end of the summer's harvest and the beginning of the long, cold, dark winter months.  It was thought that on this day, the boundaries between the living and the dead were blurred.  They believed that the ghosts of the dead would return to earth and cause trouble and damage crops.
The ancient Celts would dress up in costume (animal heads and skins) and create huge bonfires where they would sacrifice animals and crops for the Celtic deities.
 
During the seventh century, Pope Boniface IV, designated November 1, as a time to honor saints and martyrs calling the holiday, All Saints Day. The holy day was also called All-hallows, meaning all Saints Day and the night before became Hallows Eve which later became known as Halloween.

Planning Your Halloween Wedding Theme
The first thing you need to think about is to what extent you want your wedding to reflect the Halloween theme. Do you want to go all out - from the invitations to your thank you cards? Or do you want only some elements of your wedding to represent the Halloween theme?

Invitations

The design of this elegant ecru card encased in a lovely black star dream wrap with gold heart and orange liner makes this wedding invitation fit in very nicely with your Halloween Theme.
If you prefer something more representative, consider making your own invitations using a haunted house embossed on a black card using white or orange lettering.

Wedding Attire

You can choose an elegant wedding gown styled like a Morticia Adams dress (form fitted with long flowing sleeves) or you can choose to be a little more daring with a white or orange dress and black cape. If you're looking for an overall spooky gown, choose a spider web lace design and black accessories.
The bride can wear a traditional wedding gown and have her bridesmaids dress in costume or a black dress with orange accents. 
Another idea – have your bridesmaids wear witches hats and carry a witches broom adorned with orange ribbon and yellow mums.
If the bride's attire is themed, it is important that the groom's outfit match the theme.  A Halloween tuxedo would be difficult to find but you can add a top hat, cane or tails to make it more distinctive.  Perhaps you can find an orange tie and cummerbund.
Reception Ideas for a Halloween Wedding Theme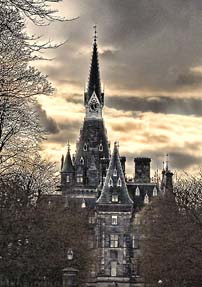 Every bride wants her wedding to be memorable and since you are choosing a Halloween theme I'm thinking you are an independent, fun loving person.  So what venue will suit your theme?
There are many to choose from.  How about an old castle, mansion or Gothic looking hall?  If you're looking to save a few dollars, consider renting an old barn.
Your Halloween decorations can include: large spider webs, pumpkins, ghosts, witches, tombstones and gargoyles.  Since your wedding is a happy occasion I would stay away from the gory stuff, like blood, axes and anything that could make your guests uncomfortable.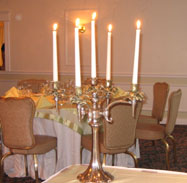 Do use black tablecloths, orange napkins and if possible large silver candelabras for you Halloween wedding theme centerpiece.
If you are on a budget, purchase some medium sized pumpkins, carve out a face on the pumpkin, place a candle in the center and surround the pumpkin with small orange tea candles.


Favors

Forget the tricks and give your guests a treat by purchasing Halloween candy bags and fill them with candy corn, Halloween cookies, orange foil chocolate pumpkins or black licorice. Tie the bag with orange and black curling ribbon.
Enchanting your guests with your Halloween wedding theme will be a lot of fun. It can also be as elegant or spooky as you desire.


Let's take a look at our Introduction page for great ideas and tips to creating a perfect wedding.
Wedding Theme Ideas

Autumn Ideas

Autumn Bouquets

Fall Wedding Centerpieces

Halloween Ideas


Pictures are copyrighted and cannot be used without written permission © 2008 - 2015 unique-reception-theme-wedding-ideas.com ® All Rights Reserved
Click Here to read our disclosure regarding affiliate and advertising sponsors.