Funny Wedding Cake Toppers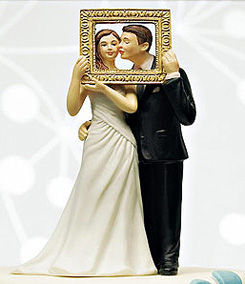 Funny Wedding Cake Toppers

Weddings are very serious, yet they are joyful and lively events. It is an event celebrating the joining of two people as a couple that hopes to spend their lives together.

Even with the joyful atmosphere of the reception, the enormity and importance of the event can be a little unnerving. So, the solution is to introduce some comedy, correct? So how do you do that, you may ask?
Comical Cake Toppers are the perfect way to alleviate stress and to get a few laughs out of the reception and from your guests. It may seem like a small detail but a humorous cake topper could add a playful effect to your special day.
Unusual cake toppers could range from the typical bride and groom where one is rushing the other to complete the ceremony, all the way to joking about who can get there first.
The above cake topper pokes fun at the picture perfect bridal couple and their desire to have themselves "framed."

More Ideas for Funny Wedding Cake Toppers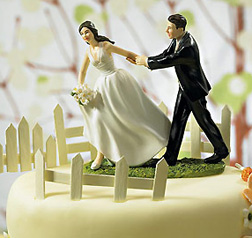 Pictured above is a scene where the Groom is tugging at the bride's hand to keep her from running away.

Most commonly, a cake topper like this would even make fun of male or female hobbies, such as the bride and groom driving off on a motorcycle instead of a car or carriage.


Additional Funny Wedding Cake Toppers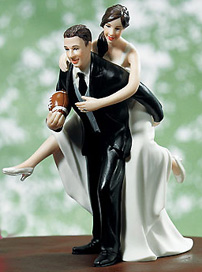 One example I have seen personally is where the bride has a football, running to make a touchdown, with the groom chasing after her, while both of them are in a tuxedo or dress, wearing football helmets as well. (I couldn't find that cake topper but thought the above was cute too.)  It is the perfect way to joke about stereotypical hobbies or even problems that may come between a married couple.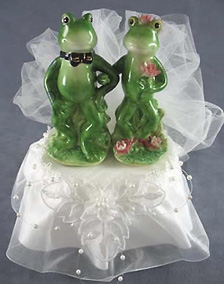 There are even comical cake toppers that use famous cartoon characters to lighten the mood. There are toppers where the bride and groom are illustrated as Forgs, or even Rapunzel and the prince. These are one of many ways to confront marriage in the best possible humor and enjoy your special day.


In today's world of constant texting, I chuckled when I saw a cake topper depicting a bride and groom dancing while holding their phones texting during their first dance. How apropos is that!
If you have doubts about your guests having fun at your reception, or are finding the event itself daunting, then choose something to bring about a smile to everyone's face, even if it is a small detail like a funny wedding cake toppers.
Discover more great wedding ideas

Wedding Cake Ideas

Fun Ideas For Your Reception

Unusual Desserts


Pictures are copyrighted and cannot be used without written permission © 2008 - 2015 unique-reception-theme-wedding-ideas.com ® All Rights Reserved
Click Here to read our disclosure regarding affiliate and advertising sponsors.