Fun Ideas for Wedding Reception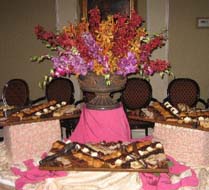 Tips For Fun Ideas for Wedding Reception
Everyone loves to have fun.
So, you and your hubby have decided that you want your guests to have a really good time at your wedding and you are looking to supplement the music and dancing by adding something a little different.
Take a minute by reading this page and gain some insights and tips on how to host a "fun celebration."
I'm always in search of finding the very best for my brides and when I came upon this idea for having fun, I couldn't resist.
Have your DJ or Band begin playing the song to your first dance. While you and your hubby are dancing to your ever so sweet song, have the DJ or band make like there's a problem with the equipment. You and your hubby stop dancing and look real annoyed. Then have the DJ or band begin playing a "Saturday Night Live" song and you and your spouse begin dancing to your little routine. It's a great idea and your guests will get a kick out of your humor.
The "I'm looking for" game is played by having the emcee or any person who is animated, call out the couple's previously prepared questions, such as; I'm looking for someone who is wearing purple shoes, each table will send up one person from their table if they are wearing purple shoes. The person will then return to their table and await the next question.
One point will be assigned for each table that sends someone up who has the item. The emcee will continue to ask questions until one table reaches ten points. The winner will receive a small gift purchased by the newlyweds.
Additional Fun Ideas for Wedding Reception include: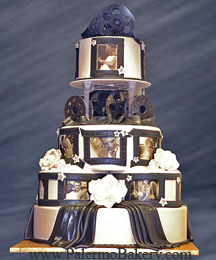 People enjoy seeing pictures. You can delight your guests by creating a slide show of you and your hubby as you were growing up. To keep it interesting, sprinkle a few photos of your family and friends throughout the picture presentation. Or have a picture cake made with your favorite pictures embedded on your cake as shown above.
Place an index card at each table with a pen or pencil. Ask each table to work as a group and finish this sentence; our funniest story about Mary and John is….. Or, when Mary and John met…. You can substitute any appropriate phrase to begin the statement.
Remember to keep it "G" rated, as you will not want to offend any of your guests. After you have collected all the cards, have the emcee read them aloud.
Hire a dance instructor to teach a simple ballroom or swing dance step. Once the band starts playing, all of your guests will enjoy practicing their new dance step.
Consider hiring a tarot card reader, a belly dancer, a comedian or a magician.
More Fun Ideas For Wedding Reception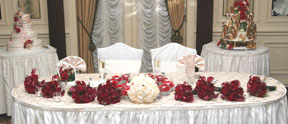 Couples ask me for a fun way to give away their centerpieces. I recently attended a reception where the emcee asked one guest at each table to pull a dollar bill out of their wallet or purse and begin passing it around the table to a particular song. When the music stopped the person holding the dollar thought they were the winner, however, they were told they were out of the play. The music began again and when the music stopped, the holder of the dollar was asked to pick a person to be eliminated. The music began again and when the music stopped the emcee asked the holder of the dollar to pass the dollar back to the person who originally took out the dollar. Then the emcee announced that the person who was the owner of the dollar was the new owner of the centerpiece. All the guests had a good laugh at the twist on this musical chairs type of game and thought it was a lot of fun to play along.
Fun Ideas for Wedding Reception - Fireworks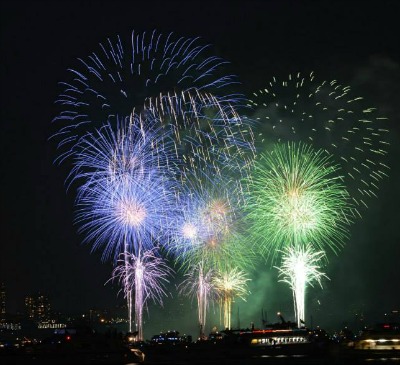 Not only does everyone love the beauty and awe of fireworks letting your guests know that there will be a firework display at the end of the evening will keep your guests at your reception to the very end.

No matter where your reception is held, the idea is to create a fun filled memory. Be imaginative and embrace any of my "Fun Ideas for Wedding Reception."
Let me help you with your planning.  Come read our Opening page.

Wedding Reception Ideas

Inexpensive Reception Ideas

Original Wedding Reception Ideas



Pictures are copyrighted and cannot be used without written permission © 2008 - 2015 unique-reception-theme-wedding-ideas.com ® All Rights Reserved
Click Here to read our disclosure regarding affiliate and advertising sponsors.