Flower Ideas For Wedding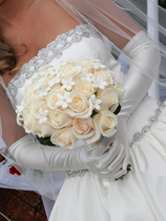 Flower Ideas For Wedding

There are so many flower ideas for a wedding that you probably are confused and worried that you will make a mistake in choosing your flowers. 
I am here to help you sort through all the information and create the impact that you want your flowers to portray at your ceremony and reception.


If you are not certain what posies you like best, look through some  books at your local library, bridal magazines, search the Internet for the different types of flowers, and talk to recent brides to get some of their ideas. Take a trip to your local florist and browse through their books for some more inspirational ideas.
Your budget will also help determine the types of flowers you will be purchasing.  Obtain some prices before you set your heart on a particular flower and then find that the cost of that special posy is not within your budget.  As a general guideline, flowers usually account for fifteen percent of your overall budget.


Flower Ideas for Wedding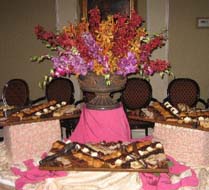 It's a good idea to have your flowers coordinate with your color scheme. If your bridesmaid's dresses and overall color scheme is a pastel color it makes sense to use flowers that blend in with your color palette.
If you are looking for the best quality and lowest prices of flowers, choose ones that are in their normal growing season. Roses, lilies, orchids, carnations and daises are usually available all year.  It would be costly to order hydrangeas, lilacs and baby's breath during the winter months as their growing season is June, July and August in the Northern Hemisphere.
When choosing your bridal bouquet you should keep in mind your skin tone and hair color.  Brunettes look best with red, bronze and orange flowers.  Blonde brides usually look more radiant with blue, purple and pink posies; redhead brides typically look good with green and white flowers.

More Flower Ideas for Wedding
A tall bride might want to choose a large flowering bouquet, in contrast to a petite bride who would look best carrying a smaller bouquet with more delicate posies. 
Many brides are using fresh flowers as a headpiece with their veil, while other brides are accenting their updo by strategically placing small delicate flowers in their hair.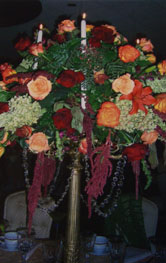 Your floral arrangements for your tables should coordinate with your overall color scheme.  Your flower choices for your bouquets, boutonnieres and corsages should also complement your theme.
As an added decoration, some brides have a floral garland made, using their wedding flowers to drape in front of their bridal table.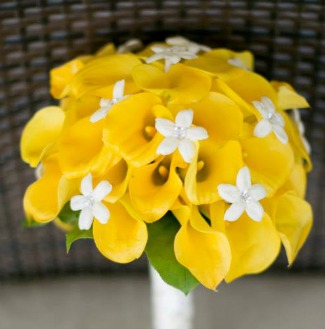 I do hope my Flower Ideas for Wedding page has given you some inspiration and tips to help you choose flowers that will complement your theme.
Good wedding planning begins here.

Wedding Flower Ideas

Wedding Flower Arrangement Ideas

Flower Design and Tips

Autumn Bridal Bouquet



Pictures are copyrighted and cannot be used without written permission © 2008 - 2015 unique-reception-theme-wedding-ideas.com ® All Rights Reserved
Click Here to read our disclosure regarding affiliate and advertising sponsors.