Country Wedding Ideas
Country Wedding Ideas

If you're an outdoor type of couple and have chosen a country theme for your ceremony and reception you have come to the right place for ideas.
There are no rules to follow for a country bridal affair, just your ideas and thoughts on how to celebrate your love for each other.
Fun Country Wedding Ideas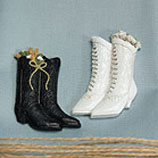 A cornfield, lodge, wheat field or barn will make a wonderful venue for your celebration. A working farm with animals and hay will make for great pictures and your guests will enjoy walking around to see all the animals.  Verify the availability of electricity, running water, cooking and rest room facilities.
More Country Wedding Ideas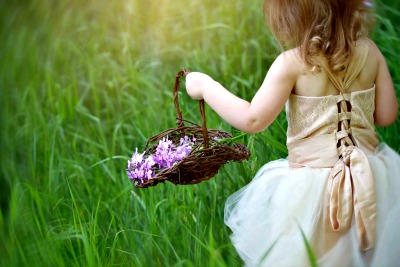 Having your flower girl carry a basket with hand picked flowers will create a sweet country effect.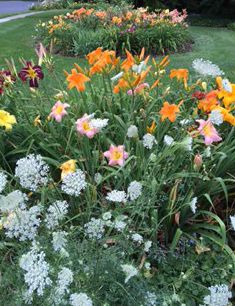 Using earth tones of yellow, tan, russet, browns, oranges and cinnamon will enhance your country wedding theme.  Bridesmaid's dresses can be a casual gingham pattern and their bouquets can include sunflowers, daisies, or black-eyed Susan, tied with gingham ribbons.
Corn Husks gathered together and tied with twine makes for a very authentic entrance way. Mason jars filled with jams and honey will decorate the table as well as double for your favors.
The centerpieces can consist of gourds, pumpkins and small corn stalks placed on an orange colored doily. Another country centerpiece idea would be to float tea lights in a Mason jar.  For another authentic country centerpiece idea, place Indian corn and gourds in a water bucket with streamers wrapped around the handle.
The bride and groom chairs would look wonderful decorated with corn husks tied with orange ribbons.
Another country decoration to consider is hanging lanterns with soft flickering lights from the beams.
Instead of traditional wedding music, consider hiring a fiddler and playing a few square dance delights.
A white tiered bridal cake with spice or carrot filling would be different and delight your guests.
If arriving at your reception on horseback is a little too much for you while wearing your bridal gown, you can create the same experience if you arrive in a horse drawn carriage.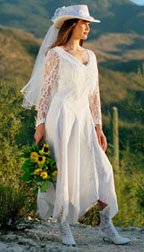 How about wearing a typical country dress as shown above from McCrae Dresses?
Love allures us in the same way the pioneers were called to travel west, so think country and use my country wedding ideas to create your country celebration.

In need of some more bridal ideas? Check out our Opening page.
Wedding Theme Ideas

Western Theme Wedding Invitations

Western Wedding Dress

Western Wedding Ideas

Western Wedding Theme Ideas


Pictures are copyrighted and cannot be used without written permission © 2008 - 2015 unique-reception-theme-wedding-ideas.com ® All Rights Reserved
Click Here to read our disclosure regarding affiliate and advertising sponsors.