Centerpiece Ideas For A Wedding
Centerpiece Ideas for a Wedding

Let's think "Out of the Box" for unique, imaginative and creative ways to have your reception centerpieces reflect your personality and budget.
If you're hosting a theme wedding, have your table arrangement reflect the theme. A red Mylar heart balloon can be surrounded with color coordinated latex balloons and ribbons to enhance a Valentine theme.

If you're getting married during the Christmas Season, consider using potted poinsettias or small decorated, table top pine trees.  Surround the small trees with white confetti giving an illusion of a snow setting.
An inexpensive autumn centerpiece idea would be to place dried leaves in the center of the table and place gourds and Indian corn on top of the dried leaves.  Another autumn centerpiece idea is to hollow out a pumpkin and place dried flowers in the center.

Autumn Centerpiece Ideas for a Wedding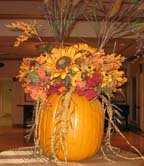 Some brides just can't have enough flowers at their ceremony and reception but do not want to spend a large portion of their budget on flowers.  Purchase small vases, cluster them together in the center of the table and fill each vase with flowers of the season.
This table arrangement idea is unique and great for garden lovers who also want to have others enjoy their passion for gardening.  Paint a galvanized pail and fill it with flowers, surround the base of the pail with seed packets that the guests can take home and plant in their gardens.
Arts and craft stores typically discount wreaths at the end of the different seasons. Purchasing the wreaths on sale will save you money and give you time to create your arrangements.  Decorate the wreath following your theme and place different height pillar candles in the center of the wreath creating a dramatic look. 
Centerpiece Ideas for a Wedding for the Bride who has a large floral budget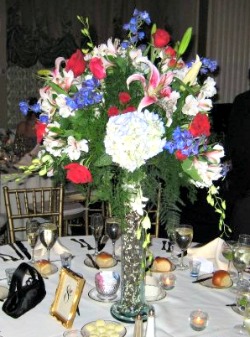 The above floral arrangement works well for a bride who loves different flowers mixed together.  This arrangement can be used for any  season of the year.

For those couples that are into sports, how about having a candy dispenser filled with M & M's as your centerpiece? Not only will your centerpiece serve as a table decoration your guests will enjoy the candy that they can eat during your reception.
Non Floral Centerpiece Ideas for a Wedding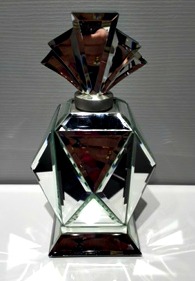 How about using a decorative piece of mirror, glass or other non floral centerpiece as your table arrangement?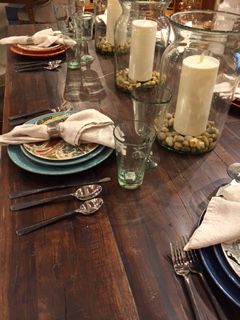 This Centerpiece was created by purchasing a large vase and 9" candle.  Placing the stones at the base of the candle gives a country design to your table arrangement.

Another Idea

Take a trip to the dollar or thrift store, purchase clear vases and fill them with colored sand to coordinate with your wedding palate.  Then surround the vase with small candles to create an elegant centerpiece.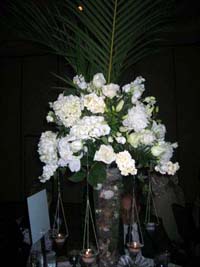 I do hope my centerpiece ideas for a wedding have helped you get your creative juices flowing.  Please also click on my Wedding Centerpiece Ideas link below for additional inspiration.
We have more bridal ideas for you to read about.

Wedding Centerpiece Ideas

Ideas For Inexpensive Table Arrangements
Pictures are copyrighted and cannot be used without written permission © 2008 - 2015 unique-reception-theme-wedding-ideas.com ® All Rights Reserved
Click Here to read our disclosure regarding affiliate and advertising sponsors.