Calla Lily Wedding Bouquets - The Epitome of Elegance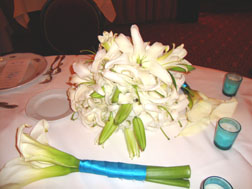 Calla Lily Wedding Bouquets
The calla lily is a gorgeous, elegant, ever so simple flower that coordinates well with any wedding theme or color palette. Calla lilies are delicate looking and sophisticated.
Calla lilies are hearty flowers and will look as crisp at the end of your reception as they did when you were walking down the aisle. They also don't have thorns or sharp edges that can scratch or catch on your dress.
White calla lily bouquets are also very versatile. You can use matching ribbon from your bridal dress, or bridesmaid's dresses to bundle them together.
If you are planning on having calla lilies in your bridal bouquet, bridesmaids bouquets and as boutonnieres for your hubby and groomsmen, plan on budgeting between $350 and $400 for a set of one hundred white calla lilies.
Most brides are surprised to learn that calla lilies can be purchased in a wide array of different colors.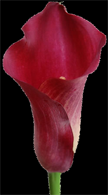 Impressive is the bride who carries a ruby red calla lily bridal bouquet. The tones of red calla lilies range from dark pink to crimson. Red calla lilies make a wonderful choice for the bride who is getting married around Christmas or Valentine's Day.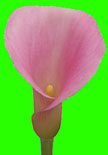 Pink calla lilies symbolize gentility and refinement. Their trumpet shaped blooms spread joy and announce your love and devotion.
And one of my favorites is - lavender - which is a lovely spring color.
How to Create Calla Lily Wedding Bouquets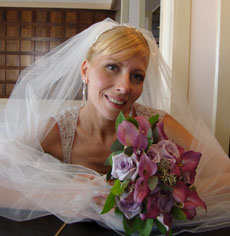 The above bridal bouquet was created by mixing light lavender roses with deep pink calla lilies. The bouquet is elegant and compliments the brides coloring and dress.
You can make your bouquet using faux, dried, preserved, silk or fresh flowers. If you are creating a calla lily bouquet with fresh flowers you will need a holder that has fresh flower foam in it. Wet the foam but do not saturate it. Using a spray bottle, mist the fresh flowers as you are creating your bouquet. Be certain to keep your completed bouquet in the refrigerator until you are ready to use it.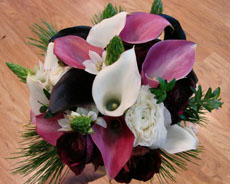 The above calla lily wedding bouquet was created by Flowers by Adallia of Toms River, NJ.
Your wedding bouquet can be made by using a bouquet collar or hand tying the stems together with floral tape about six inches below the bloom. Once the flowers are secured and in the arrangement that you have chosen, take wide satin ribbon from one of your wedding colors and wrap the ribbon around the stems hiding the tape. You can hot glue rhinestones, pearls or crystals to the ribbon.
If you want to create a cascading bouquet use maiden hair ferns, gypsophila blossoms, calla lilies with natural green stems and miniature ivy garland.
Another idea for Calla Lily Wedding Bouquets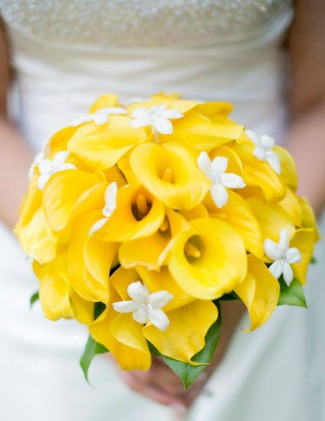 The above bouquet was created by using yellow calla lilies and white stephanotis which is a sweet scented flower that has a five pointed star shape.
Decorations for your Cally Lily Wedding Bouquets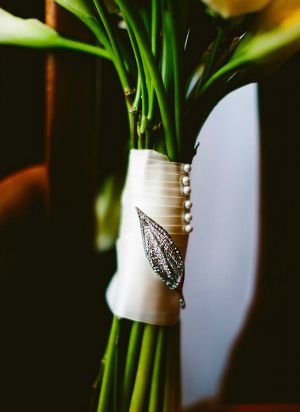 If you're looking to decorate your bouquet holder how about adding a rhinestone brooch to your handle. This bride also added some buttons from her dress to enhance her bouquet holder.
Your bouquet should be easy to hold and compliment you and your dress.
Every bride wants her wedding day to be perfect and every bride wants to look her absolute best. So, I do hope my tips and ideas for your calla lily wedding bouquets gets your creative juices flowing and that you have a fabulous wedding day.
Continue your wedding planning here.

Wedding Flower Ideas

Calla Lily Centerpieces

Wedding Flower Arrangement Ideas

Wedding Flower Design Ideas


Pictures are copyrighted and cannot be used without written permission © 2008 - 2015 unique-reception-theme-wedding-ideas.com ® All Rights Reserved
Click Here to read our disclosure regarding affiliate and advertising sponsors.