Blue Wedding Flowers That Will Make You Feel Like Royalty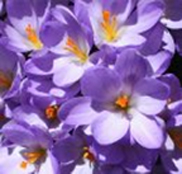 Blue Wedding Flowers

The flowers that you choose for your special day say a lot about your personal style and taste. The color blue always conjures up thoughts of royalty and prestige. If you want your flowers to say, "class and sophistication" then choosing blue flowers is right for you.

There are a few choices of natural blue flowers for you to pick from that will make your reception look elegant and stylish.

Hydrangeas
Blue hydrangeas make beautiful bridal and bridesmaids bouquets. Baby blue or white ribbons wrapped around the stems create a full bouquet that says, "Elegance." These large, lacy flowers make a lovely table centerpiece and can easily be grown in your backyard.
Hyacinths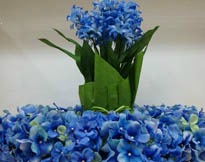 Not only are hyacinths a beautiful flower, they also have a wonderful fragrance that will fill your room with a fabulous aroma. Bouquets can be arranged with three or four stems intermingled with baby's breath.
More Blue Wedding Flowers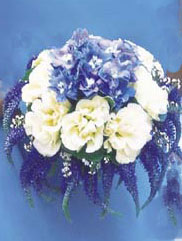 This exquisite bouquet created by www.daisylaneflorist.com is created by using bom dendrobium orchids. The contract between the blue and white flowers casts a cool tone especially for an outdoor reception. Can you just see your bridesmaids wearing a baby blue dress carrying this bouquet?
Delphiniums
Delphiniums are regal in color and elegant in stature, rendering them a graceful and distinct centerpiece and bouquet. They come in an array of astounding shades of blue and can be used to surround white roses in a bridal bouquet.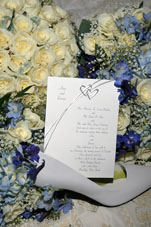 Irises make beautiful arrangements for Blue Wedding Flowers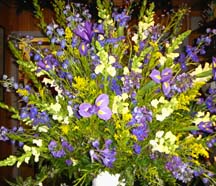 Photo created by Flower Express, Atlantic Highlands, NJ (732) 291-8300
Blue irises convey tranquility, faithfulness and the beauty of a cloudless sky. All of this emotion can be captured in the bride's bouquet and table arrangements. For a fabulous centerpiece, offset the irises with yellow roses and baby blue ribbon.
Orchids
True blue orchids will bring grace and style to any wedding. The most popular blue orchid is called the Vanda which has a vibrant blue coloring and is not dyed but authentic. They are rare and will surely blow your budget.
Dying Flowers
There aren't too many natural blue flowers to choose from, so how about asking your local florist to have white roses, calla lilies, tulips or carnations colored by using blue dye. Your florist will purchase the flowers and add a few drops of food coloring or dye to the water of your chosen flowers and Presto, your roses, calla lilies, tulips or carnations will be a beautiful shade of blue. This process will be a little more costly, but will certainly be a conversation starter.
Blue Wedding Flowers - Poinsettias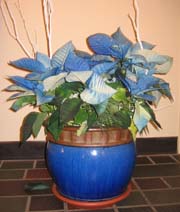 The first time I saw a blue poinsettia I thought, WOW.  This poinsettia had a sprinkling of glitter and a few white twigs placed among the leaves.  Placing the poinsettia in a blue pot definitely gave the impression of class and royalty.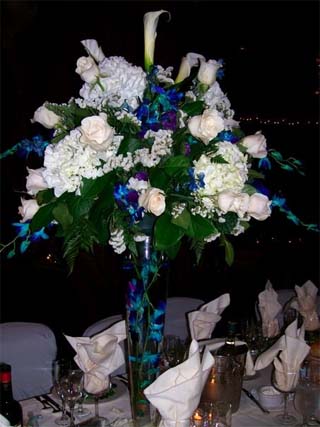 The above tall centerpiece was created using white roses, calla lilies and hydrangeas.  A smattering of blue vine flowers was added to the arrangement and to the water in the vase, giving the centerpiece just a touch of color.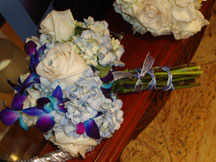 Creating beautiful bouquets, centerpieces, and boutonnieres might be a bit challenging, but you certainly can have your blue wedding flowers if you use your imagination and proper planning.

Get the best planning advice here.

Wedding Flower Ideas

Flower Ides For Wedding

Flower Designs and Ideas

Wedding Ideas For Flowers




Pictures are copyrighted and cannot be used without written permission © 2008 - 2015 unique-reception-theme-wedding-ideas.com ® All Rights Reserved
Click Here to read our disclosure regarding affiliate and advertising sponsors.