Alternative Wedding Dresses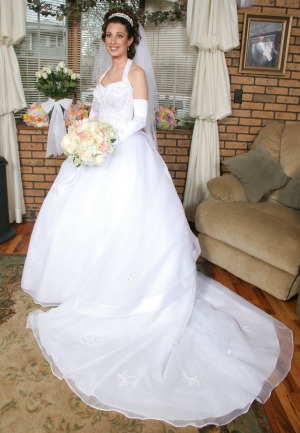 Alternative Wedding Dresses
If you're a unique person who likes to stand out and not follow customs or traditions, you have come to the right place to get inspiration for finding the perfect alternative bridal gown.
You could select a gown that is unique and elegant in any color you choose.
The above dress was not made specifically as a bridal dress but its elegant lace work with shawl would work beautifully for any bride who doesn't want a traditional bridal ensemble.

A sensible and becoming alternative to the traditional bridal gown is a two piece wedding outfit. They are flattering and you can mix and match tops with skirts to find an outfit that flatters your figure. A two piece bridal dress works extremely well for the bride that is larger on top than on the bottom or vice versa.
Many second time brides are not comfortable wearing a traditional wedding gown and prefer to wear a suit that is stylish and compliments their figure.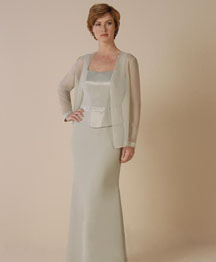 Why not purchase a dress that you can wear again? Go to a local shop or department store and browse through their prom dresses and evening gowns. Prom and evening gowns work well for the unique bride who likes a lot of glitz and glam. They typically are less costly than conventional dresses and you will certainly get to wear your dress more than once.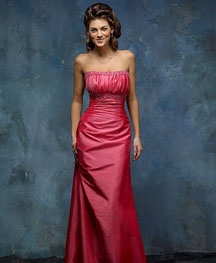 More Ideas for Alternative Wedding Dresses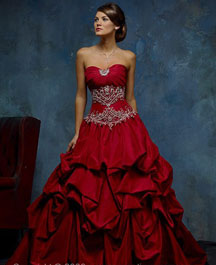 Perhaps you like the look of a traditional bridal gown but don't think white or cream suits your coloring. So...how about a conventional dress in a color that compliments your skin tone and looks sensational on you?
Alternative Wedding Dresses for the Mature Bride
If you're a mature bride consider a "mother of the bride" dress. These outfits usually have a jacket, scarf, wrap or have long sleeves which are great for any wedding.
Some brides who are having a destination wedding or are getting married on a cruise ship choose to wear a pants suit. They look wonderful and they too, can be worn more than once.
If you have a small budget for your dress, consider going to a consignment shop or an internet auction and look for a vintage bridal gown. They are romantic and ever so feminine.
A number of brides choose to honor their culture and decide to wear an ethnic bridal outfit. I was at an Indian wedding recently and the bride looked stunning in her red sari. The fabric was embroidered with gold and had a mirrored studded boarder. The matching head piece and jewelry  looked magnificent on the bride.
Many Japanese brides choose to get married wearing a simple, white traditional kimono and headdress. The white kimono, called the shiro maku is worn for reciting the wedding vows. Once the ceremony is completed, the bride places a brightly colored kimono over the shrio maku for her reception. You may look on the internet to find a company that specializes in Japanese bridal attire.
For additional ideas and tips for alternative wedding dresses please click on the links below.
Need more ideas?  Come visit my Welcome page.
Unique Wedding Dresses

Colored Gowns

Design Your Own Bridal Dress
Pictures are copyrighted and cannot be used without written permission © 2008 - 2015 unique-reception-theme-wedding-ideas.com ® All Rights Reserved
Click Here to read our disclosure regarding affiliate and advertising sponsors.